---
California is a colossal state with a lot of wilderness. Among its diverse lands lays the Mojave Desert. Known for featuring natural phenomena like Joshua Tree and Death Valley, this vast desert is chapped by unrelenting heat and arid conditions.
The perfect place for a dry port.
Mojave Inland Port Project
The envisioned Mojave Inland Port project is to build an inland (dry) port complex near Mojave, California, an aptly-named city that's nestled on the west side of the desert. Texas-based Pioneer Partners is spearheading the development of this project and has staked out 400 acres of land (which the firm owns) on which to build on.
The proposed site of this inland port is roughly 100 miles from the San Pedro Bay Ports of Los Angeles and Long Beach.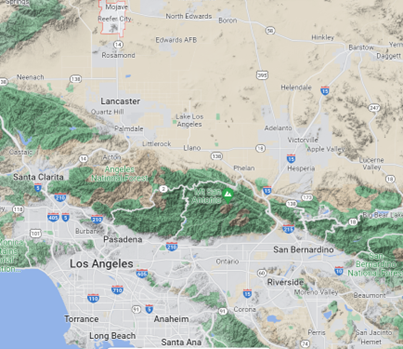 ---
Relief for Congestion at Los Angeles and Long Beach Ports
The project site's favorable proximity to America's busiest gateways for international trade, Los Angeles and Long Beach, has rallied approval of the plan from state officials in California. They, like other stakeholders, are optimistic that this proposed transportation and logistics hub will relieve these perpetually crowded ports from record-breaking container volumes continuing to shoot through.
Richard Kellogg, chair of Pioneer Partners, told FreightWaves that "the root cause" of congestion at Los Angeles and Long Beach is simply because the ports have ran out of land to further branch out with additional facilities. He goes on to say the Los Angeles Basin in general has no space for large logistics centers.
For shippers, the Mojave port would be an attractive option to avert their containers sitting in rail yards at Los Angeles and Long Beach. In theory, they would be looking at savings to both time and money bypassing excruciating wait times to get their cargo moved from these West Coast seaports.
Kellogg reasons by cost alone that moving containers off the ship, loading them onto trains, and railing them three hours north to the proposed inland port will make for a fluid transfer. From the inland point, the containers will be dispatched to their final location. Kellogg also details to FreightWaves that he has been in discussions with officials from both Los Angeles and Long Beach ports. He reports that "both ports are very interested…and very encouraging" about this project.
The Port of Long Beach's Executive Director, Mario Cordero, has openly supported the project in a statement and agreed that there is "limited real estate available" in the Los Angeles area.
The Mojave Inland Port is planning to have the capacity to handle up to 3,600 trucks a day and 3 million containers per year once operational.
The next step for the imagined desert port is for Pioneer Partners to work with Kern County officials to secure building permits. The Texan firm is hoping to break ground sometime next year with the inland port slotted to become fully operational in 2024.
Final Thoughts
The Mojave Inland Port project is yet another example of an ambition to better utilize or construct inland facilities to relieve our country's supply chain. Cut from a similar cloth, is a multi-year project focused around development of a rich inland port network on the Mississippi River.
Contact one of our team members if you have any questions regarding this topic or any others in domestic logistics.
This is an everchanging industry. Stay up to date each week on rail and trucking developments through our Commerce Express Road Map Newsletter.