Commerce Express Weekly Road Map:
November 22nd, 2022
Keeping you informed on the latest news/insights in our industry.
Commerce Express Blog

"From the mountains to the sea" and "from the National Forests in North Carolina" to the West Lawn of the U.S. Capitol, one lucky truck holds this year's honor of transporting a priceless piece of cargo—the 2022 U.S. Capitol Christmas Tree.

Review of Brake Safety Week 2022
In August this year, Brake Safety Week took place. Over 38,000 inspections took place in the U.S., Canada, and Mexico throughout the event.  
Of the total vehicles inspected, 13.3% were placed out of service for brake-related critical vehicle inspection item violations – the Commercial Vehicle Safety Alliance (CVSA) reports.
Results, courtesy of CVSA, show by country:
Inspectors in Canada inspected a little less than 2,000 commercial motor vehicles (1,975) and placed 351, or 17.8% out-of-service for brake related violations. 

 

Inspectors in Mexico inspected a little over 1,700 commercial motor vehicles (1,740) and placed 42, or 2.5% out-of-service. 

 

Inspectors in the U.S. inspected a little over 34,400 commercial motor vehicles (34,402) and placed 4,664, or 13.6% out of service. 

 
A Proposed Regulation – which would require Intrastate Carriers in California to be Equipped with ELD's – is Open for Comments
The current state regulations do not require an ELD (electronic logging device) as the method for preparing an intrastate driver's Record of Duty Status, and are subsequently not compatible with federal regulations – a Sgt with the California Highway Patrol says and reported by Freightwaves.
As Freightwaves notes, the interstate – not to be confused with intrastate – group has been using ELDs that are under the required federal mandate that need to be used to help monitor compliance with HOS (hours-of-service) regulations.  
Additionally, the California Highway Patrol, in a published impact statement, noted that they do not currently know how many intrastate vehicles already use ELDs, since as of now, there is no current ELD mandate.  
The projected in-service date for this implementation would be the start of 2024.
Port Insights for Truckers
Port of Charleston: Container terminal gates will continue to be open on Sundays from 8am to 5pm through December 18th, 2022. This is an effort to continue to reduce congestion and fluid truck movement 
Chicago: Chassis shortages continue as the average chassis dwell time is around 14 days. Additionally, the chassis challenges have increased because drivers cannot reuse the equipment they drop off, though this is not just an issue in Chicago, other inland markets have seen this as well. 
Dallas/Fort Worth: Union Pacific and BNSF ramps continue to see severe chassis shortages because of the increased volume of freight.
FAQ: In the U.S., What States Have the Largest Turkey Production?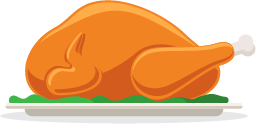 Minnesota, North Carolina, Arkansas and Missouri are the top four producing states of turkeys.  
From all of us at Commerce Express, we wish everyone that celebrates a Happy Thanksgiving!

The Two Remaining Rail Unions Split Their Votes Regarding Their Labor Agreements
Members of the Brotherhood of Locomotive Engineers and Trainmen (BLET) and yardmasters with the Transportation Division of the International Association of Sheet Metal, Air, Rail and Transportation Workers (SMART-TD) have voted in FAVOR of ratifying the agreement, Freightwaves reports.
The yardmasters represent roughly 4% of SMART-TD's members.
However, SMART-TD train and engine service members have voted to REJECT the tentative agreement, sending them back to the bargaining table with the freight railroads.
Additionally, SMART-TD will remain in status quo until December 8th – meaning they are legally not allowed to engage in any strikes or work stoppages.
BLET and SMART-TD represent approximately half of all freight rail workers.
Union Pacific Railroad Plans to Remove Caps on Demurrage Fees at Seven Inland Terminals – Effective Nov. 28

th
UP announced they will be removing the caps on rail demurrage in Council Bluffs (Iowa), Dallas and Houston (Texas), Denver (Colorado), Memphis (Tennessee), Salt Lake City (Utah), and St. Louis (Missouri) – the Journal of Commerce reports.
In their announcement, UP stated that they have seen a reduction in backlogs at the USWC ports and inland terminals and believe that will continue.
For the time being, fees will continue to remain in place in Chicago, El Paso, and Kansas City. UP says they will re-evaluate those cities next month to see if lifting the demurrage caps there would be warranted.
The Federal Railroad Administration
has
Issued a List of Priority Projects in the Northeast Corridor
This list will help advance a systematic approach for the improvement and development of the commuter and intercity passenger rail backbone of the region's rail network, AJOT reports.
The Northeast Corridor is a railroad line that goes from Boston to Washington, D.C., and is crucial to the American economy.
The first NEC Project Inventory includes 68 projects that will help replace and rehabilitate crucial rail assets and also planning for major rail station upgrades and expansions.
Total U.S. Rail Traffic for the Week Ending November 12

th

, 2022
Total U.S. weekly rail traffic was 490,350 carloads and intermodal units, down 2.5% compared to the same time last year – the Association of American Railroads (AAR) reports.
Motor vehicles and parts, nonmetallic minerals, and farm products – excluding grain and food, all posted increases from the same week last year.
While grain, chemicals and metallic ores and metals all posted decreased from the same week last year.
If you are enjoying our weekly content, check out our LinkedIn to see our weekly blog posts, updates and more!