---
An otherwise unassuming stretch of December has turned into a week of weather warnings.
A large weather system has swept across the greater part of the U.S. over the last couple of days and is now impacting the East Coast, from Florida all the way up to Massachusetts. A good chunk of the system has also stalled and continues to dump a wintry mix of snow and cold rain over the upper Great Plains.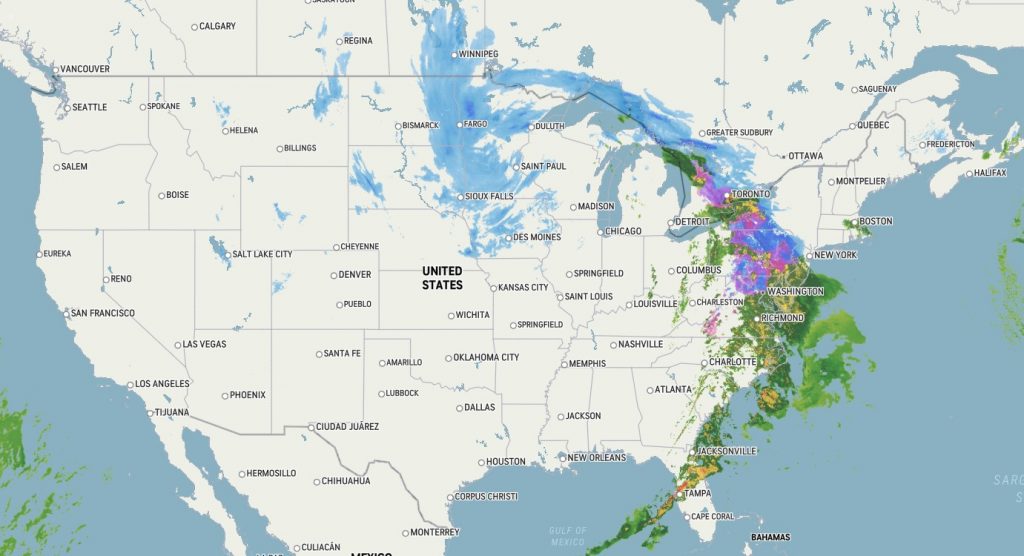 Severe thunderstorms and tornadoes have left a mark on southern states
The storm first made its presence last weekend when it dumped several inches of rain in Southern California and over a few feet of snow in the Sierra Nevada mountains.
After making such an entrance, the storm continued to rumble eastward with "pick your poison" weather conditions.
In the south, heavy thunderstorms brewed with some even spawning tornadoes. Communities across Louisiana, including the New Orleans area, reported extensive damage at the hands of these December tornadoes. As of this morning, 10,000 people were still without power throughout the battered state.
Power outages have also been reported all over the country—from Wisconsin to Pennsylvania. The former having 70,000 people without power as of this morning.
The storm system has now pushed through Florida and Georgia where millions of people are under tornado watches.
Blizzard and icy conditions stall over the upper Great Plains
Further north in the upper Great Plains, the storm has been reluctant to move along. Snow and freezing rain have been hampering the Dakotas and Minnesota since Tuesday and are not expected to dissipate until Friday afternoon.
Blizzard conditions have forced officials in South Dakota to close a 320-mile stretch of I-90, the state's premier throughway and popular trucking lane, as over two feet of snow has piled on in some areas. Similar conditions have also affected northern Minnesota and North Dakota where parts can expect over two feet of snow accumulation by the weekend.
For southern areas of Minnesota, including the Twin Cities, freezing rain and wet snow have combined to form slick and hazardous roadways. Our experts at Commerce Express Inc. can confirm this to be true.
And while the backend of storm has overstayed its welcome in the upper Great Plains, a healthy chunk of weather system split off and continued to make its way eastbound to the Atlantic coast.
Winter storm warnings and weather advisories are now in place from Washington, D.C. to New Hampshire. Travel may be hazardous as freezing rain and ice will cover the roadways around Baltimore and Philadelphia.
Further north, Boston and New York are expecting a blanket of snow.
Final Thoughts
By the latter half of the weekend, it's likely to safe to assume this behemoth weather system will fade off into the Atlantic.
However, fellow Americans, bundle up for what's next. When the storm exits, the season's coldest air for the U.S. will arrive, according to the Weather Prediction Center. Temperatures are expected to plummet as much as 15 degrees (F) below normal across the Great Plains, Midwest, and southeastern U.S.
We hope everyone stays safe as this weather system drags its feet. The National Weather Service is a great resource to check out for real-time updates on local and national weather advisories.
Additionally, please contact us if you have any questions or would like more information on this topic.