Commerce Express Weekly Road Map:
August 8th, 2023
Keeping you informed on the latest news/insights in our industry.
Follow our socials for additional updates 


Yellow Corp Files for Bankruptcy
Late on Sunday August 6th, Yellow Corp announced they would be filing for Chapter 11 bankruptcy protection.  
"It is with profound disappointment that Yellow announces that it is closing after nearly 100 years in business," Yellow CEO Darren Hawkins said in their press release.
Yellow Corp will be seeking to restructure their debt, which is estimated to be at $1.5 billion.
U.S. Trucking Jobs are Below October 2022 Levels
U.S. truck transportation jobs have seen declines in two consecutive months, June and July.  
On a seasonally adjusted basis, July jobs came in at 1,604,300 jobs – which is a decline of 2,900 jobs from the revised June figure of 1,607,200 jobs, Freightwaves reports.  
As more data pours, reports show that the truck transportation industry reported nearly 5,000 (4,900 to be exact) fewer jobs in July than in May. This is the lowest level it's been at this year and is lower than every month going back to October 2022.  
Additionally, warehouse jobs continue to decline. They were down to 1,899,500 jobs – a 5,600 drop from June.
Results from
Roadcheck
2023
Roadcheck this year took place from May 16th through the 18th, with inspectors focusing on anti-lock braking systems (ABS) and cargo securement.  
Here are some key points from this year's Roadcheck, per CVSA data: 
Inspectors removed 11,270 commercial vehicles from roadways until the out-of-service violations could be corrected.

 

This year 19% of commercial vehicles were removed (at least temporarily) from service, which is an improvement on last year, which saw 23% of commercial vehicles being removed. 

 

When drivers receive a positive inspection, they receive a CVSA decal. This year a total of 20,151 decals were dealt throughout North America.

 

There were 2,975 cargo securement violations, 4,127 ABS violations, and 949 seat belt violations that were issued. 

 
Did You Know: Trucking Industry Responds to Increase of Cargo Thefts
Cargo theft has seen consistent increases throughout this year. The most common areas for cargo theft have been in California, Texas, and Georgia.  
Those in the industry implore the importance of having a plan in place, which you can read more about here.

Dockworkers at Canadian West Coast Ports Vote Yes to Ratify Labor Agreement
The vast majority of the ILWU members voted to ratify the tentative agreement with the Canadian West Coast ports.  
The President of the ILWU, Rob Ashton, said 74.66% of their members voted in favor of the agreement, per CNBC.  
This revised second tentative deal includes increases in wages, benefits and training. No additional specifics have been released as of yet.  
Many expect supply chain delays to last months due to the previous 14-day strike action that occurred and the past uncertainty on the tentative agreement being accepted.  
These uncertainties impacted vessel routes, decreases in containers (which also impacts trucking companies), and extra congestion and backlogs.  
BNSF Sees a 12 Percent Decline in Revenue During Q2
During the second quarter of 2023, BNSF saw revenue come in at $5.828 billion, which is down 12% from that time frame last year.  
Furthermore, Railway Age reports that operating income for the second quarter was $1.8 billion, which was a 24% decrease from the second quarter last year.  
Agricultural product volumes decreased from 8% to 5% compared to the same time last year. This was mainly due to lower grain exports, and partially offset by higher volumes of domestic grains, renewable diesel, and feedstocks.  
Weekly Rail Traffic for the Week Ending July 29

th

, 2023
Total U.S. weekly rail traffic was 483,481 carloads and intermodal units – down 2.6 percent compared to the same time last year, per

AAR data.

U.S. weekly intermodal volume was 252,970 containers and trailers – down 4.8 percent compared to the same time frame. 

 

Non-metallic minerals, motor vehicles and parts, and petroleum and petroleum products all posted increases. While grain, forest products and coal all saw decreases from the same time last year. 

 

North American rail volume for the first

30 weeks

of this year was 19,360,049 carloads and intermodal units – down 4.1 percent from last year.
Taylor Swift gave truckers on her tour bonuses of $100,000 per trucker! Check out this article on our socials to read more on Swift's generosity!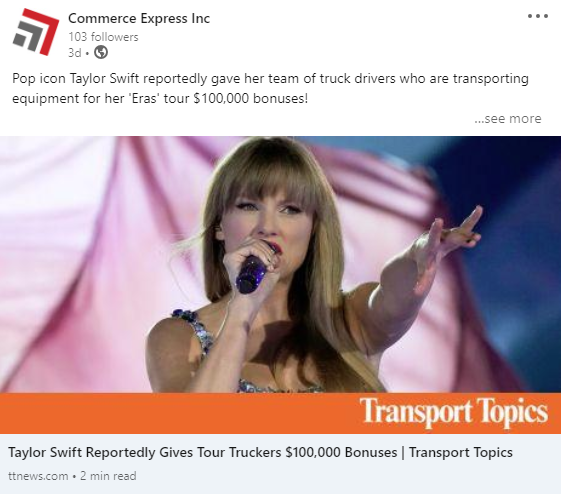 If you are enjoying our weekly content, consider giving our LinkedIn a follow! You'll be able to see our blog posts, market updates, breaking industry news, and more.