Commerce Express Weekly Road Map:
August 15th, 2023
Keeping you informed on the latest news/insights in our industry.
Follow our socials for additional updates 

Kentucky has a logistics diamond in the rough. The Bluegrass State's Owensboro Riverport stands out as a twinkling transport hub for both domestic and international channels.
Owensboro is Kentucky's largest inland port and facilitates a fair share of cargo distribution across the U.S. Midwest and South markets.

Volvo Group Recalls Battery-Powered Electric Trucks in the U.S. After a Fire
Nearly all battery-powered electric trucks in the U.S. that were made over the last four year have been recalled by Volvo Group, due to the possibility it may cause a battery fire at a Virginia assembly plant.  
This recall impacts around 172 vehicles and nine Mack Trucks, and Volvo Group will replace the batteries, per AJOT.
The risk of fires due to battery involved issue has been receiving more attention recently. Battery fires are more difficult to put out due to the self-oxidizing lithium salts that can lead them to re-igniting.  
Putting out a battery fire can take significant gallons of water, much more than what it takes to put out a gasoline car fire.  
Yellow Corp Hopes to Have Bankruptcy Loan Finalized

by

August 15

th
The ongoing situation regarding Yellow Corp filing for bankruptcy continues.  
Negotiations between Yellow Corp and a variety of different groups interested in financing the bankruptcy proceedings are expected to continue through August 15th, Transport Topics reports.  
Yellow Corp plans to use its bankruptcy to sell all of its assets, including 12,000 trucks and over 300 shipping service centers, per Reuters.
Updated Southeast Chassis Pool Will Charge a 'Penalty Fee' to Unregistered Users
In light of a new chassis pool, that covers the ports of Jacksonville, Savannah, and Wilmington, North Carolina, Consolidated Chassis Management (CCM), plans to charge a 'penalty fee' to an unregistered users.  
Mike Wilson, the CCM CEO told the JOC, if you don't register on their website and try to pick up a chassis in the new pool, you'll be charged $100 per day. They won't stop a driver at the gate, but they will be charged that penalty rate.  
CCM will be using a "five-tier pricing structure" for the SACP 3.0 based on the total number of "usage days" per customer annually. Additionally, CCM will charge $22 per chassis per day for customers with less than 100,000 usage days per year – the lowest usage tier. 
Did You Know: Truckers Gearing Up for the National Truck Driving Championships
More than 400 drivers will participate during the American Trucking Associations' 86th annual "Super Bowl of Safety" on August 16th-19th in Columbus, Ohio. 
During this competition, every driver has the opportunity to demonstrate their driving and inspection skills, knowledge, and professionalism through a series of tests.  
Learn more about the National Trucking Driving Championships here.

The FRA and OSHA calls on NS to Improve Their Safety and Training Practices
In a report from the Federal Railroad Administration that was set to assess the safety culture at Norfolk Southern, they detail that the Class I railroad could improve communication and training processes.  
The FRA also detailed four areas where NS could improve its safety culture…per Freightwaves: 
Ensuring communication is open and effective

 

Fostering mutual trust between the company and NS employees via certain measures

 

Ensure training and resources supply company safety efforts

 

Develop a safety culture that is less 'reactive' and more 'proactive' 

 
In response, NS President and CEO Alan Shaw said it welcomed the report and, "To learn, we have to listen. It's important to understand where the FRA believe we can do better, and we appreciate that they identified positive areas where we are already making progress." 
Weekly Rail Traffic For the Week Ending August 5

th
For the week ending August 5

th

, total U.S. weekly rail traffic was 471,938 carloads and intermodal units – down 3.2 percent compared to the same time last year, per

data

from the AAR. 

 

U.S. weekly intermodal volume was 249,739 containers and trailers, which is down 5.2 percent compared to last year. 

 

Motor vehicles and parts, metallic ores and metals, and miscellaneous carloads all posted increases compared to the same time last year. While grain, coal and chemicals all posted decreases. 

 

For the first 31 weeks of this year, carloads and intermodal units decreased by 5 percent compared to last year.

 
Check out our latest blog on socials, to read more on why experts are now predicting more of an "above-normal" level of hurricane level of activity this year compared to their earlier prediction back in May.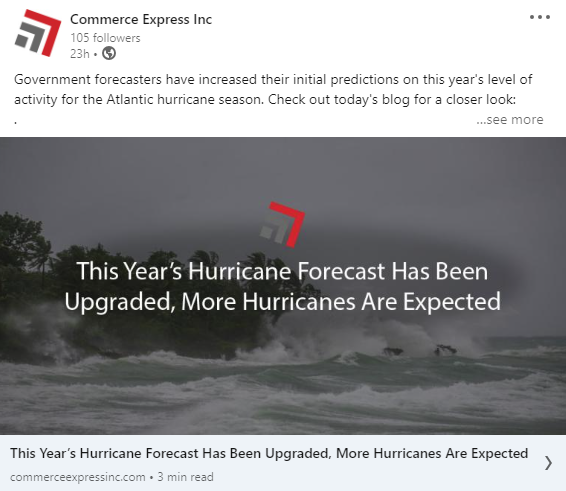 If you are enjoying our weekly content, consider giving our LinkedIn a follow! You'll be able to see our blog posts, market updates, breaking industry news, and more.