Commerce Express Weekly Road Map:
August 22nd, 2023
Keeping you informed on the latest news/insights in our industry.
Follow our socials for additional updates 

The Transportation Trades Department (TTD), a coalition with 37 member unions, is concerned that railroads haven't budged on implementing a federal program that enables railroad employees to anonymously report safety-related incidents.

FMCSA will Consider Waiver Requests on Truck Driver Work Rules
In a recent notice, the Federal Motor Carrier Safety Administration says it will consider 'rolling back' federal decisions on truck driver work rules.  
Currently employers in California and Washington must abide by "stricter" Meal and Rest Break rules, than what is required by the federal government.   
Those rules require trucker drivers and other employees to be given a 30-minute meal break if they work more than five hours a day. And drivers who work a 10+ shift are allowed a second 30-minute meal break. Plus, an additional 10-minute rest period for each four hours they work in a day. As Freightwaves notes, the rules in Washington are similar.
Now, the FMCSA says they will issue waivers to those that can show that stricter state rules in California and Washington are safer.  
UPS Teamsters Contract Could Be Ratified on
Tuesday
The UPS Teamsters union says the ballot counting to either ratify or reject the five-year contract with UPS is expected to conclude by 3pm EDT on Tuesday, August 22nd.  
A Teamsters spokeswoman said on Monday that there is no specifics on when the results would be made public.  
As a brief background on this contract… on July 25th, UPS and Teamsters agreed to a tentative five-year contract.  
Some details include a $2.75-an-hour wage increase in the first year for full and part time employees, safety and health protections (including vehicle air conditions and cargo ventilation), having MLK Jr. day as a full holiday, and more.  
Pennsylvania Turnpike Tolling Plan Has a New Fee Structure
The new system will include charging tolls electronically to drivers that are traveling throughout the turnpike, without having to slow down or stop beneath steel gantries between the interchanges.  
Additionally, the tolling system will change the current nine weight-based vehicle classifications to a new one using a vehicle height/axle system with 11 different vehicle combinations.
Impacts

from the Tropical Storm Out on the U.S. West Coast
For the first time in 84 years, Tropical Storm Hillary was the first tropical storm to hit Southern California. The storm caused flash floods, mudslides, high winds, power outages and the possibility of isolated tornadoes.  
According to Transport Topics, the storm first made landfall on the Mexican coast, then moved through Tijuana before making its way to Southern California.  
The tropical storm dumped more than half the average annual rain on some desert and mountain areas.  
Tens of thousands of people throughout Southern California lost power, most of which are beginning to return to power. A stretch of I-10 freeway near Palm Springs was blocked due to mudflows.
Did You Know: Gragg Wilson is the 2023 NTDC Grand Champion
At this year's National Truck Driving Championships, also known as the "Super Bowl of Safety", UPS professional driver Gragg Wilson was the 2023 Grand Champion! 
"Just doing what I do every day, just going out there and doing what I do," was his key to success.  
Learn more about the winner here.

Post-Strike Rail Volume Levels Getting Closer to Pre-Strike Levels
Canadian railroads are getting closer to pre-strike volume levels, as the aftermath of the strikes have been softened.  
"We haven't seen a big increase in volume, and an expectation that the railroads have unused capacity sitting around that can quickly be brought on line to clear what's built up isn't reasonable," says John Schmitter, RailState co-founder and CCO in a news release.
Data from RailState reports show total traffic at the Port of Vancouver, now in line with pre-strike traffic. Meanwhile at the Port of Prince Rupert, traffic is now settled to the pre-strike average.
Union Pacific Operations Impacted by Tropical Storm Hilary
Union Pacific operations were impacting by the storm that occurred this past weekend. Last night, in a customer announcement, UP details how available teams are continuing to work to repair track and structures in impacted areas.  
Specifically, the Mojave Subdivision remains closed, but "recovery crews are working to remove debris and restore service by tomorrow (August 22nd)."  
According to the announcement, the Yuma Subdivision remains out of service as debris, water, and mud are covering the tracks. "As water levels recede, our teams will begin assessing the damage and determining the degree to which repairs are needed. Additional resources are being deployed to assist with the recovery effort."  
Norfolk Southern and CSX Aim for More Freight Rail Market Opportunities
CSX and CPKC have plans to create a new direct interchange connection in Alabama, via portions of the Merdian & Bigbee Railroad.  
The railroads say this would create a new freight corridor connecting Mexico, Texas, and the U.S. Southeast. Additionally, they say this would benefit shippers wanting more access to the Southeast via the eastern U.S. Class I railroads.
Approval by the Surface Transportation Board on this interchange is still needed.  
Though Norfolk Southern is not a party in this partnership, but they still will be getting involved. Per Freightwaves, NS President/CEO Alan Shaw says they have a relationship with CPKC where shippers will be able to utilize the Meridian Speedway to go between Texas, Mexico and the Southeast.  
Weekly Rail Traffic for the Week Ending August 12

th

, 2023
Total U.S. weekly rail traffic was 472,498 carloads and intermodal units, which is down 4.2 percent compared to the same time last year –

per data

from the AAR 

 

U.S. weekly intermodal volume was 248,086 containers and trailers, down 5.3 percent from last year

 

Motor vehicles and parts, petroleum and petroleum products, and miscellaneous carloads all saw increases. While grain, chemicals, and forest products all saw decreases

 

Total combined U.S. traffic for the first 32 weeks of this year, was 14,744,979 carloads and intermodal units, which is a 4.9 percent decline from last year.
Check out one of our blogs covering the newly reconfigured chassis pool for major Southeast ports starting October 1st.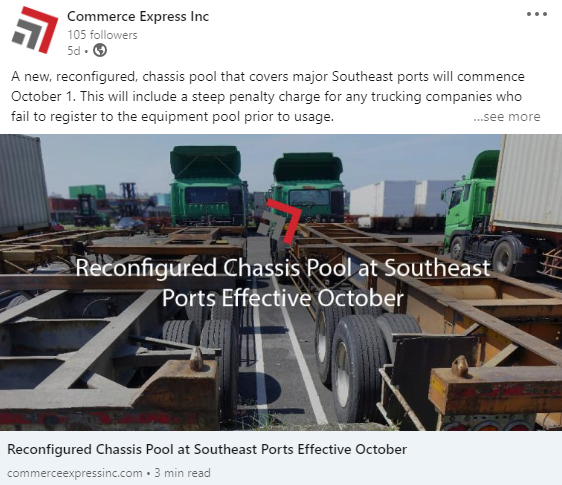 If you are enjoying our weekly content, consider giving our LinkedIn a follow! You'll be able to see our blog posts, market updates, breaking industry news, and more.