Commerce Express Weekly Road Map:
September 19th, 2023
Keeping you informed on the latest news/insights in our industry.
Follow our socials for additional updates 

Toll enforcement along the 236-mile-long Kansas Turnpike has been using the same, archaic, tolling plazas since the 1950s—the same decade in which former U.S. President Eisenhower established the interstate highway system.

FMCSA Announces More Funding for Truck Parking
The Federal Motor Carrier Safety Administration has announced more than $80 million in grant funds for roadway safety.
These grants, the High Priority Grants – from the Infrastructure Investment and Jobs Act – will include a 65 percent year-over-year increasing for funding towards truck parking and other safety measures.
Some of the areas that will receive this funding are Caldwell County, Texas, Caldwell Parish, Louisiana, along I-40 near Memphis, Tennessee, and on I-4 between Tampa and Orlando.
UAW Union Went on Strike Last Friday, Now Enters its Fourth Day
Around 13,000 members of the United Auto Workers union began their strike last Friday, simultaneously against the nation's top three automakers, per AP News. The UAW union has a total of 146,000 members.
The union cites wages and other compensation, plus job security, as their main bargaining issues. As of now, the strikes are confined to three assembly plants: a GM factory in Missouri, a Ford plant in Michigan, and a Jeep plant run by Stellantis in Ohio. But, the UAW says they may strike at more plants, if better offers are not presented.
UAW President told NPR on Monday there were "minimal conversations over the weekend so the ball is in their court… we have a long way to go."
It remains to be seen how much of an impact this ever-changing strike will have, especially on the automotive industry and supply chain. 
Diesel Update and How it's Caused a 'Strain' This Summer
This week marked the ninth straight week that the U.S. average price of diesel rose, per data from the U.S. Energy Information Administration.
According to the data, the U.S. average price of diesel increased by 9.3 cents, bringing the total to $4.633 per gallon.
Though some experts say that fall typically brings falling gas prices… "we should see more price decreases for most of the nation in the weeks ahead, barring further refinery disruptions and hurricane season," Patrick De Haan, head of petroleum analysis at GasBuddy says.
Did You Know: Mexico Continues as the Top U.S. Trade Partner
In the month of July, Mexico ranked number one in monthly international commerce with the U.S., per data from the U.S. Census Bureau.
This marks the seventh time in the last eight months that Mexico has been the U.S. number one trade partner.
Canada and China came in second and third, respectively. With Germany and Japan rounding out the top five.

NS and CN Announce New Intermodal Service
The two Class I railroads, Norfolk Southern and Canadian National, are partnering up to launch a new domestic intermodal service that will provide customers in CN-served markets in Canada and the Upper Midwest to obtain markets in the U.S. Southeast.
Norfolk Southern President and CEO Alan Shaw said in a press release, the service "simplifies [customers'] processes, enabling smoother rail shipments between Canada, Kansas City, and Atlanta."
This new service is set to begin October 2nd.
An Explosion at a Rail Yard in Nebraska Last Thursday
There is no ongoing risk to residents or to the rail yard workers after an explosion from an intermodal container, at Union Pacific's Bailey Yard in Nebraska, occurred last Thursday.
The explosion was contained within hours and no one was injured and no railcars were derailed – a UP spokeswoman told various media outlets.
Once the fire was put out, UP was able to resume complete use of the yard. An investigation is underway and as of now it is not clear on what caused the explosion.
Total Rail Traffic for the Week Ending September 9th, 2023
For this most recent week, total U.S. rail traffic was 447,345 carloads and intermodal units – down 1.7 percent compared to this time last year, the data from the AAR shows.
U.S. weekly intermodal volume was 229,244 containers and trailers, posting a 3.8 percent decrease compared to this time last year.
Motor vehicles and parts, petroleum and petroleum products, and coal all posted increases. While grain, non-metallic minerals, and forest products all posted decreases.
In the first 36 weeks of this year, total North American rail volume was 23,304,320 carloads and intermodal units – down 4.1 percent compared to last year.
Take a Look at Our August Rail Round-Up Newsletter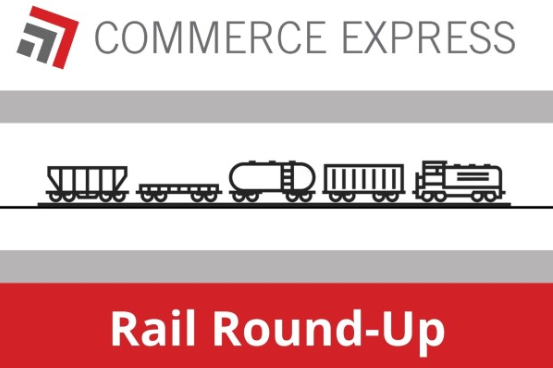 Consider subscribing to this monthly newsletter and be notified every month of U.S. carload and intermodal traffic!
If you are enjoying our weekly newsletter, consider giving our LinkedIn a follow!
You'll be able to see our blog posts, market updates, breaking industry news, and more.