Commerce Express Weekly Road Map:
September 26th, 2023
Keeping you informed on the latest news/insights in our industry.
Trucking — 
Recent Developments:
The price of diesel has dropped 4.7 cents (national average now at $4.586/gallon).
Fall harvest season is approaching which has the most impact on the Midwest, Great Lakes, Mountain West and Northeast areas.
The SACP 3.0 Chassis Pool is expected to open in early Oct., which will cover ports in Jacksonville, Savannah, Wilmington, Atlanta, Birmingham, Charlotte, and Tampa.
In Columbus, OH –

chassis deficits

are still prevalent, but wait times are improving.
Rail — 
Recent Developments:
In Cleveland, OH – challenges are being faced at NS and CSX due to containers being grounded.

Additional wait times, delays and fees may occur for customers, due to this.

Rail transit times are continuing to perform above five-year averages, railroads continue to look for more ways to get containers on their networks.
Last week was the annual Rail Safety Week that was put on by Operation Lifesaver to help bring awareness to preventing railroad grade crossing and trespass incidents throughout North America.

Results of the event are not yet available; we will update when appropriate.

California Governor Vetoes Autonomous Trucking Ban (Assembly Bill 316)
California Governor Newsom vetoed Assembly Bill 316 – which would require a trained human driver to be present in autonomous vehicles that weigh over 10,001 pounds.
Though this veto could be overruled if the legislature decides to vote in favor of the bill with two-thirds majority in each house, Reuters reports, however that has not happened in California since 1979.
Labor unions were not thrilled by this veto – they were hoping Newsom would sign the bill – as some members feel like autonomous trucks are unsafe and would lead to job losses.
Those in support of the veto say the bill would hamper chances of achieving autonomous hauling of goods and services.
Check out our blog for more on this topic!
Update on the UAW Strike
It's been a little over a week since the UAW launched their work stoppages at major car makers.
Last Friday, the UAW expanded their strikes to 38 parts distribution centers for Stellantis and GM – throughout 20 states – but not Ford, as they have made progress in talks with them, per NPR.
UAW President said more strikes could be avoided if companies make "significant progress" towards a new collective bargaining agreement.
This strike could have an impact on part shortages which could also create longer wait times for repairs. I.e. instead of waiting 2-3 weeks for something to get fixed, it could take 2-3 months.
Interestingly enough, Canadian autoworkers recently ratified a new labor agreement with Ford on Sept. 24th, which averted a potential strike. Some say this could
Water Levels on the Mississippi River Impacting Grain Rates
The extreme heat and low rainfall in the Midwest this summer has caused levels on some of the Mississippi river to drop.
These extreme weather conditions have created an impact for the grain commodity, with rates rising even though the river water levels see no significant increases.
During the week of September 16th, a USDA report stated barge movements hauling grain totaled 129,900 tons of grain. This is down 25 percent from the earlier week and 38 percent from that same time last year, per Freightwaves.


Federal Agencies Will Continue Monitoring NS Post-East Palestine Derailment
The Biden Administration announced they will continue to monitor and hold Norfolk Southern accountable for the East Palestine derailment that occurred in February, Transport Topics reports.
Nothing out of the ordinary of what has already been occurring will change, but the administration is appointing a FEMA official to oversee the recovery as well.
Norfolk Southern has committed $95 million to the town so far, and they expect that total to be around $803 million when all is said and done.
$1.4 Billion in Funding Going Towards Rail Safety and Capacity
Early this week, the government announced there would be over $1.4 billion in funds going to improve rail safety and increase capacity.
This money will go towards 70 projects in 35 states and Washington. These projects will include track upgrades and bridge repairs, as well as improving the connectivity among railways and making routes less susceptible to extreme weather.
Additionally, $178.4 million of that funding  will go towards restoring passenger service throughout Alabama, Louisiana, and Mississippi near the Gulf of Mexico.
While a little over $29 million will go towards a project in Kentucky making improvements to miles of tracks and other infrastructure throughout Paducah and Louisville Railway.
Weekly Rail Traffic for the Week Ending September 16th, 2023
Total U.S. weekly rail traffic for the week ending September 16th, was 489,790 carload and intermodal units – up 1.8 percent compared to the same time last year, per data from the AAR.
U.S. weekly intermodal volume was 257,067 containers and trailers – up 3.3 percent compared to last year.
Motor vehicles and parts, petroleum and petroleum products, and chemicals all saw increases. While coal, grain, and non-metallic minerals all saw decreases.
North American rail volume for the first 37 weeks of this year was 23,974,092 carloads and intermodal units – down 4.1 percent compared to last year.
Take a Look at Our August Rail Round-Up Newsletter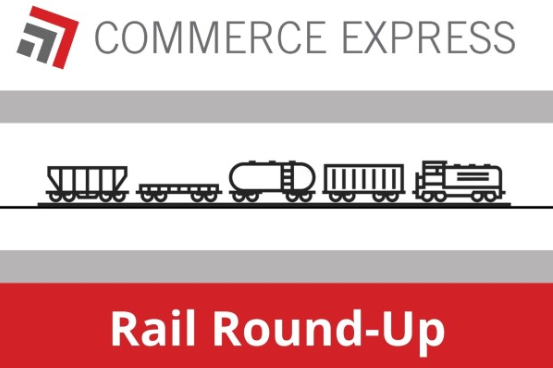 Consider subscribing to this monthly newsletter and be notified every month of U.S. carload and intermodal traffic!
If you are enjoying our weekly newsletter, consider giving our LinkedIn a follow!
You'll be able to see our blog posts, market updates, breaking industry news, and more.