Commerce Express Weekly Road Map:
October 31st, 2023 — Happy Halloween!
Keeping you informed on the latest news/insights in our industry.
Trucking –
A new chassis pool – called the Memphis Pool of Choice (MPOC) – has 'hard launched' in Memphis.

The goal of this new chassis pool is to provide a better experience for frustrated truckers and cargo owners over which chassis is allowed to be used to haul ocean containers.
Right now, the chassis pool has 2,500 units but they hope to have 5,000 units in the following year.

As of October 30th, the national average price of diesel is $4.454 per gallon, dropping 9.1 cents from last week, per data from the U.S. Energy Information Administration.
At the Savannah ports, construction is expected to be concluded in mid-November, with no additional construction scheduled

This ending of construction will help alleviate some of the low-impact vessel backlogs at the port.

Chassis availability for exports in the Cleveland market remains significantly low, but the overall wait time has seen improvements.
Rail –
The Surface Transportation Board is extending the comment period for the Notice of Proposed Rulemaking regarding reciprocal switching.

The comment period deadline is now November 7th, 2023.

New procedures at NS Austell in Atlanta, GA have started. These will require drivers to make appointments in the new system.
Out in St. Louis capacity is flowing and rail operations remain fair.
Due to a shortage of rail cars out at the ports of LA/LB, rail dwell times are rising.
Cross-Border –
At the Port of Montreal, negotiations for a new dockworker contract remain at a standstill.

The earliest a strike could happen would be early next year on January 4th, but there is a good chunk of time for an agreement to come to terms. As of now, the dockworkers are still working under their interim deal.

The U.S. is discussing whether to terminate a tomato trade agreement with Mexico, a decision is expected to be made in the next few months.

The main issue is whether Mexico-based growers are dumping exported tomatoes into the U.S. at lower prices that hinder the domestic market.

UAW Reaches a Tentative Agreement With General Motors
The United Auto Workers and General Motors have come to terms on a tentative agreement and will be going to the union members to vote on ratifying.
While specifics of the deal have not been announced, sources tell Reuters that the tentative agreement reached between the UAW and GM follow similar deals by the UAW with Ford and Stellantis. In which raised the top pay for veteran workers by 33 percent.
This marks the third tentative deal to be reached in the past few weeks between the unions and employers.
Negotiations Between UAW and Mack Trucks Halt
On October 26th, negotiation talks between UAW affiliated employees and Mack Trucks came to a halt, with no further talks scheduled as of yet.
This comes after talks between the two restarted back on October 23rd after the specific UAW union members did not ratify the original tentative deal with Mack Trucks.
The UAW President argues that the companies are "making billions, and they're just not sharing it with the workforce."
The original tentative deal would have employees seeing an average wage increase over five years of 36 percent, with an average immediate wage increase for all employees of nearly 15 percent.

After October 31, Thanksgiving, Black Friday (c'mon it's basically a holiday), Christmas, other winter holidays, and New Years all follow up within a short span of two months.
Every year, this celebratory backstretch acts as a commercial backbone for U.S. retailers. Whether it's costumes, food, decorations, or gifts, various sectors of retail look to capitalize off America's holiday cheer.

Norfolk Southern Seeks More Answers Regarding the CPKC-CSX Southeast Corridor
Earlier in October CPKC and CSX submitted plans to the Surface Transportation Board regarding approval to obtain portions of a southern U.S. shortline – in an effort to create more 'efficient rail freight flows' throughout Mexico, Texas and the U.S. Southeast.
Now, Norfolk Southern is stepping in and asking the STB to make CPKC and CSX provide more information.
NS argues that those railways applications don't "take into account how their plans could affect passenger and freight rail traffic, including how traffic that might need to access NS and NS' Meridian Speedway via the MNBR," Freightwaves notes.
In addition, NS does not want the STB to allow CPKC's and CSX's application to move forward until those railways combine their applications and provide that additional information.
Heading Into Next Year CPKC is Feeling Attentive
In a third quarter earnings call, CPKC executives noted the various 'challenges' that occurred in the third quarter; "softer demand environment", volume setbacks from the strike at the Port of Vancouver; equipment failures at Canpotex's Portland terminal.
So how is CPKC feeling as they start to head into next year?
Keith Creel, CPKC President and CEO said he "feels good about the synergies (from the April CP and KCS merger) and the ramp-up as we look to next year."
Creel also mentions the important role intermodal business and some very heavy consumer-driven areas play and if they "rebound or not." Creel notes that CPKC will be "very prudent about how we look at those volumes into 2024."
You can read more about these third-quarter results, here.
Total Weekly Rail Traffic for the Week Ending October 21st, 2023
Total U.S. weekly rail traffic was 505,985 carloads and intermodal units – which is up nearly 2 percent (1.8 to be exact) from the same time last year, per AAR data.
S. weekly intermodal volume was 271,092 containers and trailers – which is up just over 2 percent.
Metallic ores and metals, non-metallic minerals and chemicals all posted increases. While grain, coal, and forest products all saw decreases compared to this same time last year.
Total North American rail volume for the first 42 weeks of this year was 27,452,637 carloads and intermodal units – down 3.5 percent.
Whether you plan to participate in the festivities or not, here are some fun facts about the popular holiday!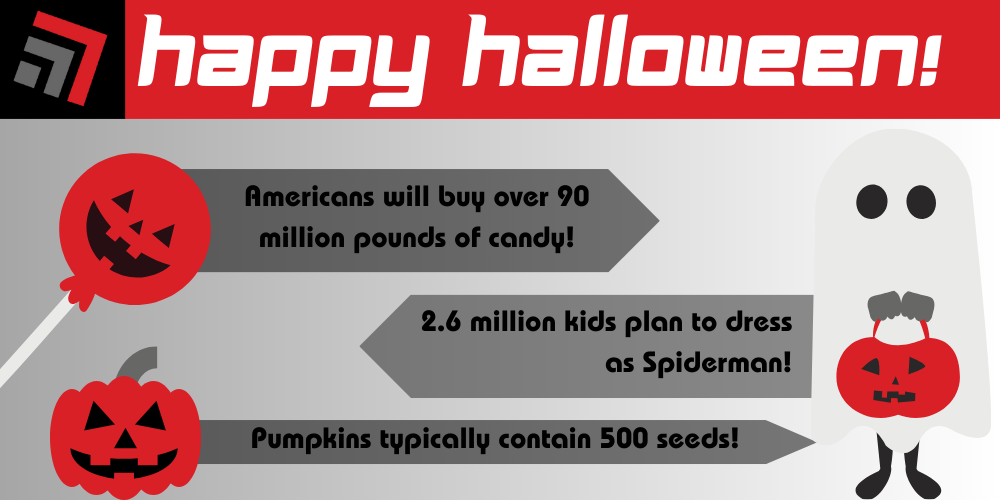 Our LinkedIn page is a great way to stay informed on the latest industry news, what's new at Commerce Express, and other relevant topics. 
Click the button below to see what we have to offer and give us a follow if you feel so inclined!