---
Iowa Governor Kim Reynolds announced the state will be opening its checkbook to invest in meeting increasing demands for professional truck drivers.
In an October press release from the governor's office, Iowa is awarding $4.84 million towards CDL training programs to ten community colleges in the state.
The commitment reflects the state's collective effort to expand training and make a truck driver career path more accessible for prospective citizens. Iowa is projected to need more than 10,000 drivers yearly through 2030.
An investment to grow Iowa's truck driver workforce
The funds will expand modern infrastructure for the select colleges' CDL (commercial driver license) training programs. This includes new equipment as well as the creation and remodeling of training facilities.
Altogether, the state hopes annual class sizes across these programs can increase by a considerable 1,305 participants.
In her announcement, Governor Reynolds acknowledged the importance of this investment. "The pathway to finding a job as a truck driver, one of our most needed occupations, runs through getting a CDL license," she stated. "It's important that we do everything we can to not only make it easier…to obtain these licenses, but also to support…the programs that made it possible to gain that experience right here in Iowa."
Beth Townsend, Executive Director of Iowa Workforce Development, a state agency, piggybacked off the governor's enthusiasm. "Increasing the CDL pipeline is crucial to sustaining and improving our economy. We are chronically short of drivers… continued investment in our community colleges should help," she stated.
Townsend also noted that the funding will give Iowa motor carriers (employers) a leg up in recruiting more native Iowans with CDLs.
Ten colleges chosen, each with varying funding and projects
Iowa isn't disbursing the $4.84 million across these ten chosen community colleges right off the bat, however. The funding will be administered to the schools in the form of reimbursements—meaning the colleges will be given the funding afterwards. Programs must offer competency-based training courses that would allow participants to complete training and take the CDL exam within a 30-day window.
Another key stipulation includes recipient-colleges agreeing to a five-year tuition freeze for CDL programs once the project from this award is complete.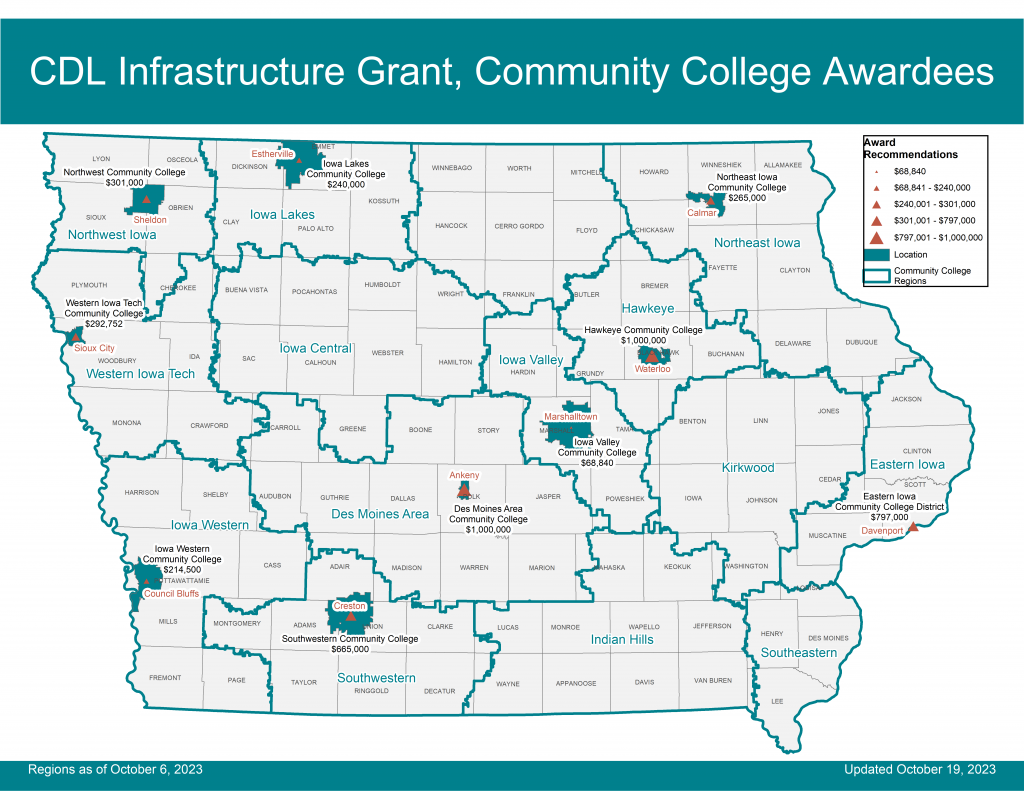 The ten colleges are each receiving varying amounts from the $4.84 million sum. The largest awards of $1 million each went to Des Moines Area Community College and Hawkeye Community College.
The following is a brief rundown of some of the college's allotted funding and improvements each are making in association with this reimbursement opportunity.
Des Moines Area – $1 million
The community college in Iowa's capital will cover costs to remove an existing building and construct a new one with classroom, lab, and skill-building spaces for students. Annual enrollment is expected rise from 200 to 300 students.
Hawkeye – $1 million
The Waterloo-based community college will add 10,000 square feet to its current training center. The expansion will nearly double the facility's present size, while also allowing the college's program to add 203 new drivers per year.
Eastern Iowa – $797,000
The Davenport-based community college will help prepare three federally approved training ranges as well as a new training site in Muscatine, an Iowa town 30-miles west of Davenport. The funding will also cover four tractor-trailer combinations, equipped with ELDs, reducing training time to four weeks from the current seven weeks.
Iowa Lakes – $240,000
The community college in Estherville, near the Iowa-Minnesota border, will use some of the funding towards a new truck driving simulator. And no, not the popular computer game average Joe's play, but rather state-of-the-art equipment that can familiarize student drivers with heavy-duty vehicles before they hit the road. The college will also purchase two tractor-trailer combos.
Iowa Valley Community College, which received the lowest grant ($68,840), will also buy a simulator.
For a look at the other remaining colleges, their funding, and improvement plans, refer to the CDL Infrastructure Grant Summary.
Final Thoughts
According to the U.S. Bureau of Labor Statistics, Iowa has the third-largest labor force of heavy and tractor-trailer drivers in the country. As of May 2022, 38,390 were reported as employees in the state.
Only Arkansas and North Dakota, respectively, are ahead of the Hawkeye State.
Please contact us if you have any questions regarding this topic or any others in domestic logistics. In addition, stay up to date with weekly headlines from both trucking and rail via our Road Map newsletter.
More blogs similar to this: