---
Once every year, railcar loads of holiday cheer make their way across the U.S. and Canada.
Canadian Pacific Kansas City's Holiday Train will return November 20 through December 19. This year marks the railway's 25th anniversary of the event which supports food banks and food shelves across its vast network by raising money, donations, and awareness for those struggling with food insecurity.
"The Holiday Train program is close to the hearts of our CPKC family. Our railroaders take great joy in joining communities across our network as they come together in the giving spirit of the holidays," said CPKC President and CEO Keith Creel. "We are proud to support local food banks as we fight food insecurity by collecting food and raising money and awareness. I am grateful to all the railroaders and community members who have supported the Holiday Train over the past quarter century and made it such a success."
CPKC (formerly Canadian Pacific) launched the Holiday Train program in 1999. Since then, the railway has raised more than $22.5 million and more than 5 million pounds of food for community food banks across the U.S. and Canada.
Wholesome holiday cheer across the CPKC network
Adjacent to the program's philanthropy, is its holiday revelry. This dynamic forges a wholesome, fun-for-all-ages, experience for hundreds of local communities along CPKC's network.
For starters, the CPKC Holiday Train doesn't fit the appearance of an ordinary rail freighter. The train is illuminated with brilliant lighting displays which flicker whimsically, captivating the attention of onlookers and musing their holiday spirits.
This year, the program will actually feature two trains—the original Holiday Train and the inaugural Holiday Express.
The former's route will span across major population centers in Canada and parts of the Northeast U.S., while the latter will venture through the Midwest and Southcentral U.S.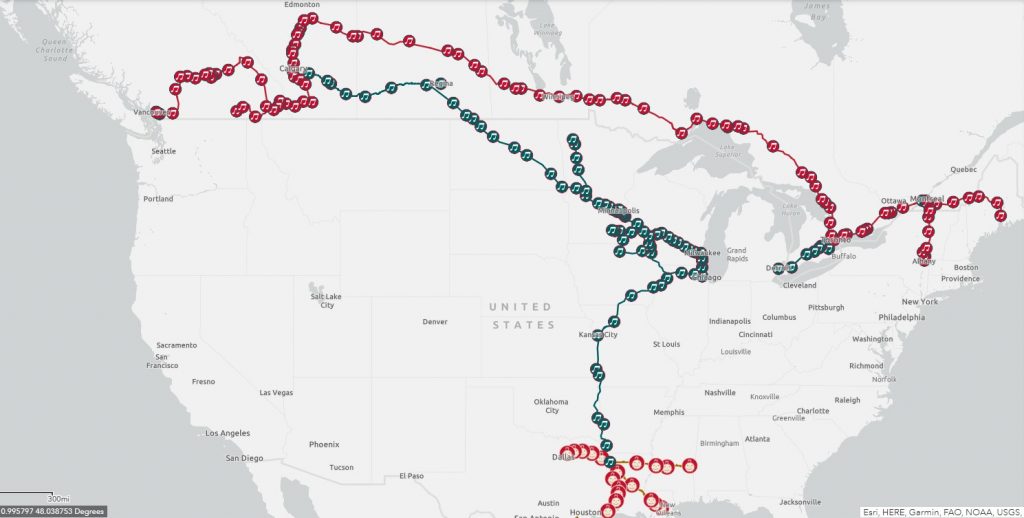 ---
Altogether, the 2023 tour will include 191 live music shows in six Canadian provinces and 14 U.S. states.
Since the railway's merger with former Class I railroad Kansas City Southern, CPKC has acquired the now-defunct KCS railway's network. This means the program will now include, for the first time, stops in Kansas, Missouri, Oklahoma, Texas, and Louisiana via the Holiday Express train.
Each music show will feature a performance from one of several acts associated with the Holiday Train program. Announced performers are: Canadian alt-rock outfit Anyway Gang; American hip-hop country hybrid BRELAND; Canadian singer-songwriter Kiesza; and Australian country duo Seaforth.
Other acts will include MacKenzie Porter, Tyler Shaw, Dallas Smith, Tenille Townes, Trudy, and Virginia to Vegas.
Additionally, the Holiday Express train will make 20 public stops in Louisiana, Missouri, and Texas. The six-car train, which will feature extravagant displays on both its exterior and interior, will feature a Santa Claus meet-and-greet for families, while also providing donations to local branches of The Salvation Army.
Each event will be free of charge to the public, with CPKC encouraging attendees to make a cash or non-perishable food donation to their local food banks, which will be accepting donations at each stop.
Final Thoughts
CPKC has provided a full schedule and details of this year's Holiday Train program.
Image used in the blog cover courtesy of CPKC Railway. Note the train livery will likely be different than the one shown in this image from previous years as Canadian Pacific has since changed its branding to reflect the railway's new CPKC title.
Please contact us if you have any questions regarding this topic or any others in domestic logistics. In addition, stay up to date with weekly headlines from both trucking and rail via our Road Map newsletter.
More blogs similar to this: